Back Organ and tissue donation and testing logistics
We offer a comprehensive range of services, including regulatory support, temperature-controlled transportation, and end-to-end tracking, to ensure the secure delivery of your shipments.
Organs for transplant
We offer a comprehensive range of logistics solutions to ensure the safe and secure transport of your organs including regulatory support, temperature-controlled transportation, and end-to-end tracking.
Tissue for transplant
Whether being sent out for research or to be used as allografts such as skin and bone grafts, heart valves or corneal grafts—human tissue shipments will vary greatly in size, weight and temperature sensitivity. Working with key tissue processors and banks, we understand the challenges of delivering these life-saving and life-enhancing shipments.
Corneas
Working with the Eye Bank Association of America (EBAA) as well as other industry leading ocular processors and eye banks, we know the care needed when transporting donor corneas.
Organs and tissues for research
Medical research on both normal and diseased human organs and tissue saves lives by uncovering new therapies and potential cures. To do that successfully, your shipments must remain viable whether they are being delivered to a university or research center across the country or around the world. Leveraging our vast network of transportation solutions, our specialists will arrange for pick up and map out the safest and most expeditious route to deliver the speed and reliability you need.
Cord blood
Babies arrive into the world on their own time frame. This makes pre-scheduling the collection and testing of umbilical cord blood prior to cryofreezing impossible – which is why parents and hospitals need logistics experts who are on call day and night. QuickSTAT is the most experienced global transportation provider of cord blood, stem cells and umbilical cords for transplant or research.
Reproductive/IVF Therapies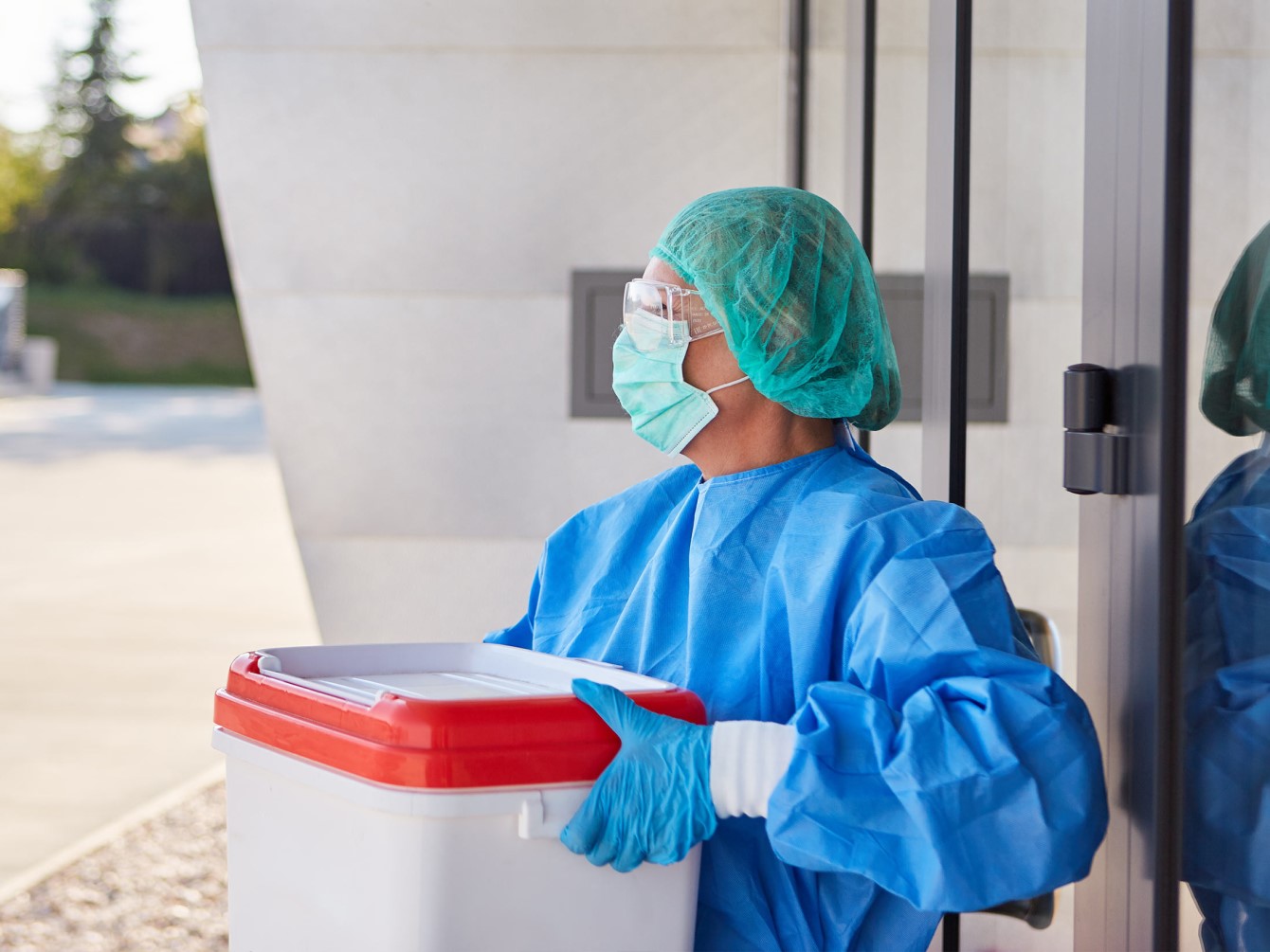 For fertility patients, nothing is more precious than their eggs, sperm or embryos being shipped for testing or storage. Safeguarding them requires expert temperature monitoring, precise tracking and unmatched speed of delivery. Labs that specialize in genetic testing or embryo storage often work with hundreds of fertility clinics and hospitals, which means dealing with a number of disparate standard operating procedures.
Here are some of the features we offer:
We use temperature-controlled vehicles and our long-standing relationships with airlines to protect the integrity of your shipments and provide special handling during ground and air transit.
We provide packaging, sourcing, consultation, complete route planning, real-time GPS tracking with automated alerts, proactive customer service communications, comprehensive domestic and international regulatory support, and real-time tracking and status alerts to ensure the safe and timely delivery of your shipments.
Ongoing temperature monitoring using state-of-the-art monitoring devices, replenishment of coolant as needed, and keeping shipments in a temperature-controlled environment from pick-up through delivery.
We provide full domestic and international regulatory support, including consultation on country-specific customs and airline restrictions, and import license requirement consultation specific to each country.
A market-leading online IT Platform, QuickOnline, that provides immediate shipment status updates at every milestone, detailed status history for tracking shipment movement and helps manage transportation costs
Access to dangerous goods certified specialists with in-depth knowledge of laws surrounding shipping hazardous materials, such as dry ice, to ensure compliance with international laws.
We provide a complete chain of custody with individual tracking and detailed information for each unique shipment ID number from the point of pick-up through to final delivery, using door-to-door optimized route planning to ensure shipments are picked up and delivered in the most secure and time-efficient way, with contingency plans to minimize or prevent delays due to any adverse conditions.
We provide 24/7/365 distribution and recovery of collection kits from parents in the hospital for delivery to cord blood banks, any time of the day or night. We also have a 24/7 medical desk supported by healthcare logistics experts with the longest tenure in the industry, available around-the-clock to support your critical shipping needs. Additionally, we offer around-the-clock pick-up and delivery with door-to-door route planning for the fastest and safest transit times. Finally, we provide fast and reliable delivery to anywhere, any time of the day or night, with recommendations on the most cost-effective, expedient solutions including Next Flight Out, On-Board Courier and Air Charter.
A specially trained life science team that has deep experience in hospital, laboratory and medical facility protocols and uses specific operating procedures and best practices for safe and secure transport